M.A.Y. Fest • May 12-14
A celebration of Music, Art and Yoga
$80 WEEKEND TICKETS
CLASS OFFERINGS by Debby Siegel, MSA, 500 ERYT, BYT
(There are over 30 classes throughout the weekend. Live music nightly.)
A host of ideas culled from many festivals with the idea of presenting some of the finest instructors and musicians in a love-focused event to allow an in-depth growth experience for you.
Camping, yoga sessions, acro yoga, Reiki Master, tea ceremony, sound bath, creek walking with fossil and geode hunting, nightly fires, drum circle, concerts with local and touring musicians, and a communal meal on Saturday night!
This 2nd annual festival is being held in the Needmore Community field in Nashville, IN – a field previously blessed by the Dali Lama. This large open field with a large fire pit, a stage, and some event tents and port-a-potties will be our weekend getaway. Most people stay in tents on the field. Camping is primitive, so you'll have to pack in your own water. Small campers are welcome on the back field.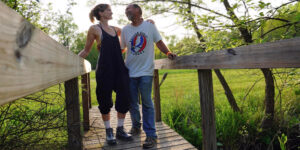 We will share a meal together on Saturday night as part of your ticket. It will be vegetarian based with a vegan option. While there aren't food vendors, we'll have a chef selling her wares on Saturday for breakfast.
Friday and Saturday will feature concerts on the stage before the circle around the fire, with a drum circle on Saturday night! Friday is open to jamming around the fire with many of the musicians entertaining us through the weekend. Bring your favorite instrument!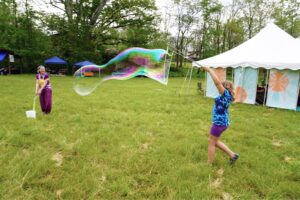 VENDORS: We intend to bring aboard vendors who are artists showcasing their goods. We firmly support artists, not resellers.
FOOD: The festival includes one meal on Saturday night that is vegetarian or vegan. All other food you'll need to bring with you.
Earthing Yoga
Ground Down. Rise Up.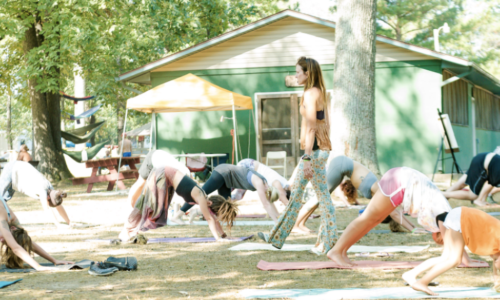 In this 60 minute experience, we will flow with our Mother Earth in a yoga practice that includes grounding onto our planet, breathwork as big as the sky, tuning in to our biology, and feeling the current flow through us and our practice. We will connect to the gravitational pull that connects us all. We will find equilibrium as we combine with the Earth's gravitational field and balance out our breath and minds. We will tune in and rise up.
Acro Yoga
Partner Massage and Flying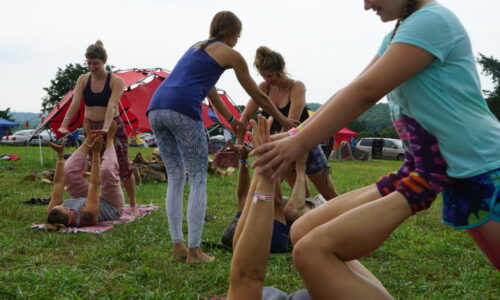 ACRO YOGA
Acro Yoga is a form of yoga that requires groups of three. You do NOT need to have a partner nor group to attend. We can pair you up. Acro Yoga is a partner practice that blends the wisdom of yoga, the dynamic power and precision of acrobatics, and the loving kindness of healing arts. These three lineages form the foundation of this practice that cultivates trust, playfulness and community. We will spend time in Thai massage stretches in between exploration of some Acro Yoga shapes.
Tea Ceremony
Mystic Den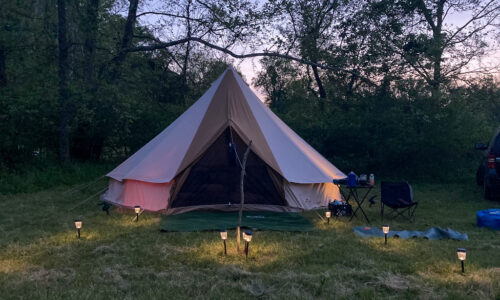 Find my partner and me in our Mystic Den for a Mushroom Tea Ceremony as well. Think an east Asian ceremony that's been westernized into a mindfulness exercise, sipping an adaptogenic mushroom drink crafted from organic ingredients for natural energy and a calmer nervous system.
Packing List:
Yoga Mat
Tent
Food for all meals except for Saturday night
Folding campfire chair
Copious amounts of water
Flashlight / Headlamp
Bug and tick lotion
Port-a-potty kit (compostable wipes, extra tp, disinfectant spray, hand sanitizer)
Layered clothing
Rubber Boots
Join the Facebook Group.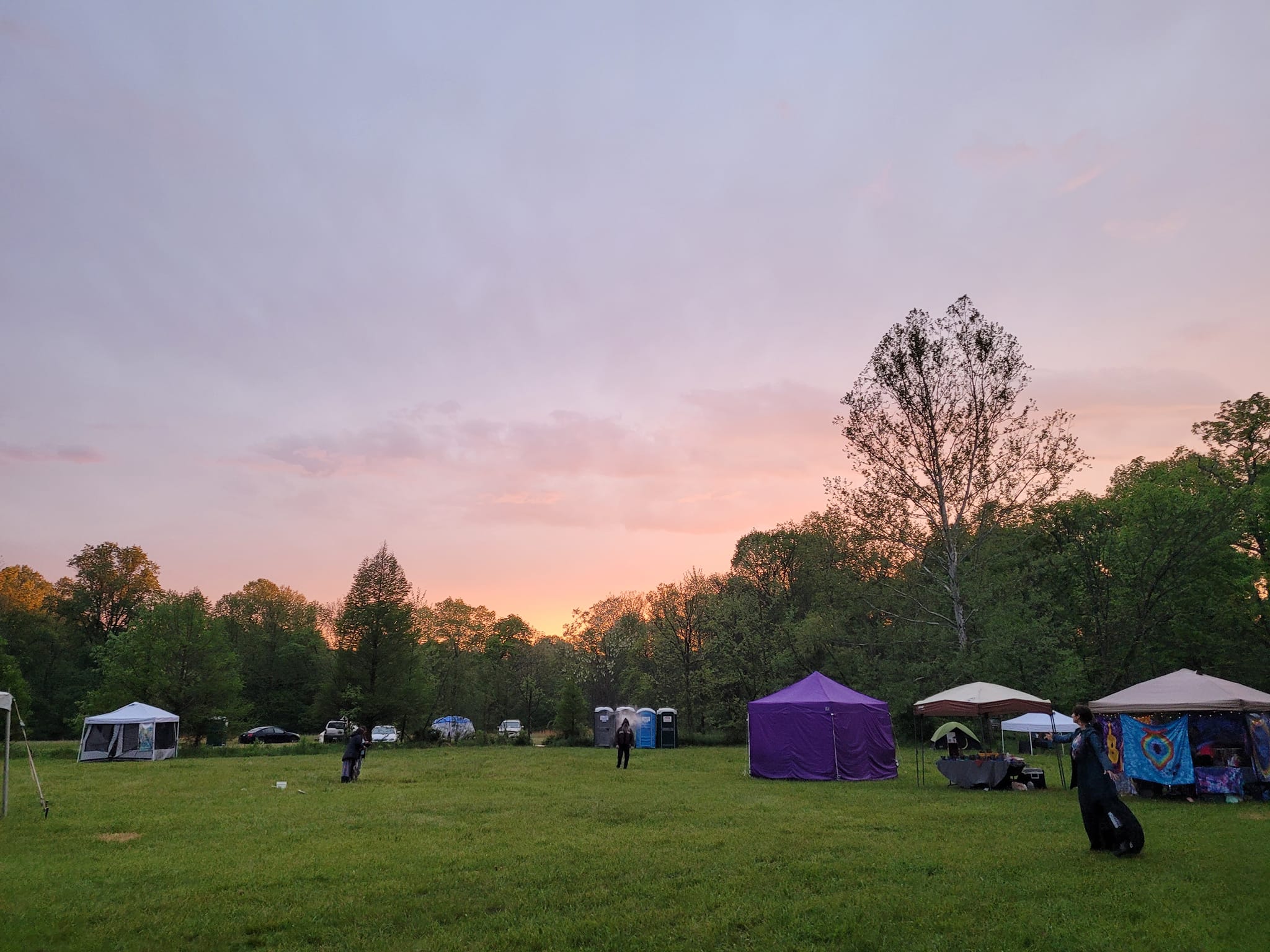 $80 WEEKEND TICKETS