Crafting – whether with ceramics, paint, wire, wool or flowers – is a wonderful way to wind-down from stress, and to cultivate more creativity. The rhythmic and repetitive nature of creating with your hands is calming, comforting and contemplative.
Research shows that knitting and other forms of textile crafting such as sewing, weaving, macrame-ing and crocheting have quite a lot in common with mindfulness and meditation — all are reported to have a positive impact on mind health and well-being. Interestingly, studies also found that people who crafted as part of a group were even happier than solo crafters. Knit-ins, stitch 'n bitch groups, and even scrapbooking parties are ways to boost your mind and brain health.
Here are 10 ways crafting with friends may improve your mental well-being:
Through social connection
Improves mindfulness
Develops hand-eye coordination, spatial awareness and fine motor dexterity
You'll spend time learning and teaching
The mental challenge and problem solving
Focusing attention and thoughts on a task
Encourages active creativity
The outcome can give a sense of pride and achievement
Teaches patience and perseverance
Facilitates memory formation and retrieval
Sounds great eh? You want to know where and how you might accomplish these 10 items at a group crafting outing soon? I did the research and here's a few time-tested crafting projects you can undertake locally in the Greater St. Louis Area:
---
Be A Knit Wit
Whether it's the hypnotic clicking of knitting needles, or the endless skeins of wool, knitting is a practical, age-old therapeutic craft, with a practical application for St. Louis weather!If your knitting is of a particularly excellent standard, it can become a sellable, marketable way to enjoy your craft-time, while providing you with the extra income to fund more crafting!
I discovered an introductory class for knit wits offered locally by Kate of Knitology where you'll be supplied everything you need (including a beer) to create your very own coffee cozy!
Saturday, April 27, 2019
1:00 PM – 3:00 PM
Wellspent Brewing Company | 2917 Olive Street | St. Louis, MO 63103
---
Hug In A Mug
Ceramics are another old-school-cool craft. Whether you're a novice or a pottery pro, ceramic art is fun and filled with practical possibilities.
Depending on your level of skill, or the amount of time you're willing to dedicate to the craft, you can buy pre-fired white ceramic objects to paint at home, or you can buy special ceramic clay and paints at art supply shops. If you are seeking a group setting with access to a kiln to fire your work, the Cherokee Rec Center on South Jefferson has free classes Tuesday and Thursday nights 5-8pm! It's an open studio format where pottery artist Jennifer Dormuth will give you an expert lesson for a specific piece, or create your own with your own wad of clay, ALL FREE!
There are a multitude of videos and tutorials available for viewing online too, if you'd like to get in the mindset before taking the plunge. Either way, I highly recommend finding Jennifer's open format classes at the Cherokee Rec Center on South Jefferson and gifting yourself this centering art form, and maybe a coffee mug while you're at it!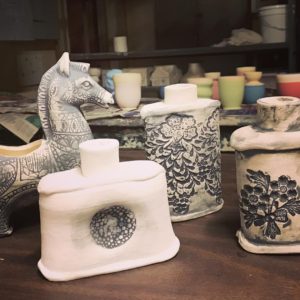 Tuesdays or Thursdays
5-8pm
Cherokee Recreation Center | 3200 S Jefferson | St. Louis, MO 63118
---
Jewelry Making
Beading and jewelry making requires the type of mind-clearing focus that is perfect for crafters looking for some homespun art therapy.
Beading is a particularly lo-fi art; it requires a minimum of supplies (beads, wire or string, and fixings) and offers a wide array of different objects to be made. We found a fairly inexpensive, beginner's beading kit at Michael's that contains all you need to get started. One of the great things about beading is that it's suitable for all skill levels, and can be completed in as much or as little time as you're willing to devote to it.
If you're wanting to take things a step further, jewelry making is a logical next step. Supplies for jewelry making can be found online, and in specialist art stores.
If you are drawn to the soothing offered in painting and jewelry making, why not combine them in a creative art workshop that blends painting mandalas and mindfulness exercises in one crafternoon? Amber Reeder of Mindful Yoga and Art if offering a workshop Saturday, April 13, 1-3:30p where each participant will get to create either a beautiful 12-inch circular mandala on a canvas panel using a unique painted dot technique or  a set of mandala earrings and a necklace using that unique painted dot technique. All jewelry components and paint are included.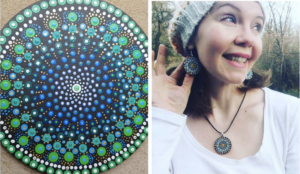 Saturday, April 13, 2019
1 PM – 3:30 PM
Amber's Studio of Art & Creativity | 4408 Big Chief Drive | St. Louis, MO 63123
---
Get Knotty
Macramé is a textile which is produced using a range of knotting techniques. Join me and a group of friends learning how to make a Macrame wall art and practice mindfulness in a safe and nurturing environment! We will begin our evening with a few moments of centering, as my intention in offering this workshop is that it might provide you with an opportunity to practice mindfulness during a fun and creative activity.
Mindfulness simply means paying attention to the present moment. Practicing mindfulness can help you to cope with tough times in your daily life and can help you to relax, concentrate and be more productive. Creating macrame to achieve a meditative state of mind could lead you to experience the benefits of mindful meditation without all those reasons we tend to use to not meditate.
This is a beginner class. No experience is necessary, and all materials are provided.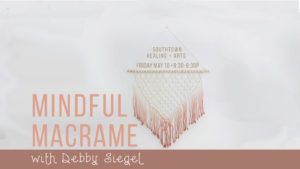 Friday, May 10, 2019
6:30 PM – 8:30 PM
Southtown Healing + Arts | 3027 Locust Blvd | St Louis, MO 63103-1328
---
Flower Power
Flower arranging is a great way to develop your aesthetic eye, as well as being a useful skill come holiday season. Fresh flowers and plants can be arranged according to taste, and combined with both botanical and non-botanical elements to form elaborate arrangements. And because houseplants have the power to purify oxygen from the air through photosynthesis. You are getting a double whammy with this crafty option.
You'll need to cross the river for this one, but you get to create a hanging basket/patio pot that is uniquely yours. You'll browse through their greenhouses to choose your plants, then pot them up, leaving the mess behind. The kind people at Sandy's will make sure your design works with your sun requirements plus give you water & care instructions so your creation remains glorious all summer long. Bring your garden gloves & a friend!
Thu, April 25, 2019
6:00 PM – 7:00 PM
Sandy's Back Porch | 2004 West Boulevard | Belleville, IL 62221
---
By immersing ourselves in a craft with intention and mindfulness, we can quiet the voices around us and in us, and enter that sacred stillness our health requires. Whether you're an aspiring artist, longtime craftsperson, or someone who has never set foot in a craft store (yet!), I hope you find a crafting opportunity here or somewhere near you soon. If you are not in St. Louis, try searching the name of the craft in Eventbrite or Facebook to locate options in your neighborhood. See you soon, my mindful artistic friends!