Create Your Narrative: Yoga + Journaling
Sunday, January 3, 2021 | 2P-3:30 CT | YogaSix Des Peres & Zoom
REGISTER
A combination journaling and slow-flow yoga class, pairing writing prompts that encourage self-exploration and creative thinking with gentle flow for exploring your potential in 2021 and beyond.
You are the author of your life story.
You're the editor too.
Have you discovered a different path in the 2020 chapter of your life's book? Wonder where your life is headed or if you are living your purpose fully? By weaving together journaling and a slow flow yoga class, you will explore some edits for your current chapter, infusing your unique storybook with pages that help you expand the novel, and embark on your unique mission.
A journal, like a yoga mat, can be a refuge, a place where you can discover more about who you really are, and celebrate that discovery. By interjecting free flow and some guided writing / drawing exercises into a yoga practice, we will open to the richness of deeper self-reflection and express it into our daily existence.
When we listen to our ego, we often do things that don't align with our true beliefs or intuition. This part of our self is mostly concerned with survival, and usually entails getting what it wants in all situations despite the consequences. This is the part of our thoughts where we judge, criticize, fear, set conditions and doubt our abilities. The ego is essentially the cause of the chitta vrittis or the 'fluctuations of the mind'.
By paying attention to our self, or self study (svadhyaya) with yoga and journaling exercises we will become more aware of the things we do that harm us, as well as those which serve us and bring us closer to that process of 'yoking' or 'uniting' with our true Self. We will edit our story in 2021. Let's begin.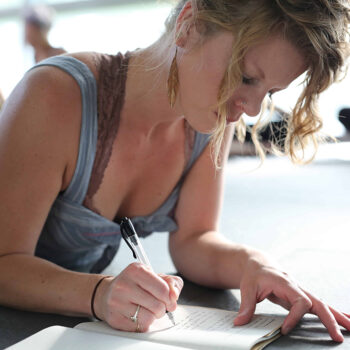 Create Your Narrative
Journaling is a form of svadhyaya or Self study. It gives your internal landscape a voice. It's a chance to document your processes, to reflect upon and release any longings or questions. (Journal & pen provided in studio, one will be mailed if you register by Dec 30, or bring/use your own.)
Register
90 Minute Experience
Jan 3 // 2P CT YogaSix Des Peres // Zoom
online through Zoom & in person
limited spots at YogaSix Des Peres (byo mat/props)
90-minute experience
30-page, lined 5.5″x8″ journal supplied
discover more about your Self and your future in this new 2021 landscape
gain more understanding of your potential and some clarity for this upcoming year and beyond