EQUILIBRAR
New Year's Yoga Retreat
TULUM, MEXICO
DEC 27, 2020 – JAN 1, 2021
Join Jeni Bailey and Debby Siegel for a New Year's yoga retreat in Tulum on the Caribbean coastline of Mexico's Yucatán Peninsula.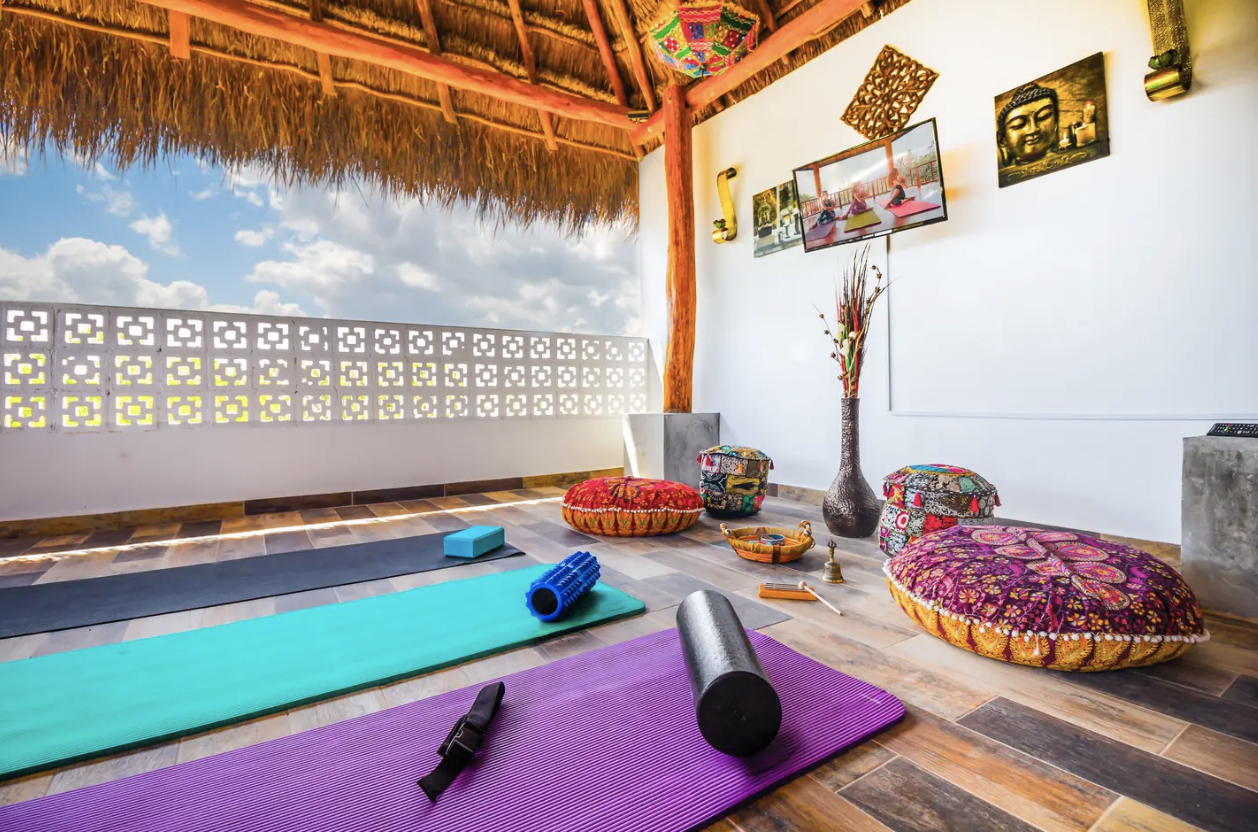 5 NIGHTS / 6 DAYS
Time for a reset back to equilibrium. Find your mind-body balance at Equilibrar 2021, a New Year's Yoga Retreat on Mexico's spectacular Caribbean coastline. You'll enjoy brunch and dinner daily from our private chef – Sharon Tutko, twice daily yoga (solar in the mornings and lunar each night), a massage (extra $$) and play time. With its confectioner-sugar sands, cobalt water and balmy breezes, Tulum is Mexico's iconic destination for relaxing and unwinding. Join us December 27, 2020 – January 1, 2021. And they are open to Americans! Reserve your spot with just $350 down.
Debby didn't discover yoga until a women's retreat she cohosted in her 40s. She now brings her whimsical, earthy mindfulness into every breath-giving experience she guides at workshops, classes and retreats all over the world.
Jeni believes anyone is capable of a yoga practice. She loves to guide and encourage all students to be completely authentic and real as they show up to their mats.
Your private chef, Sharon Tutko, has over 24 years experience as a private chef and fine-dining caterer, and culinary educator throughout the world.
LIKE, SHARE AND FOLLOW US
Awake at leisure and savor some herbal tea, turmeric tea and/or coffee with a stunning view on the palapa. Morning yoga is an energizing vinyasa flow class in the 4th floor open air yoga studio, followed by a healthy, locally sourced brunch by our private chef.
A perfect mix of free time, pampering and cultural excursions. Take a bus, taxi or bike to the beach, sunbathe by the pool, book a massage or photo session, indulge in an afternoon siesta, visit local shops, ancient ruins and temples, snorkle in a cenote, explore the area by bicycle, read a book in a hammock and much more.
Honor the passing of the day in a relaxing Yin Yoga and meditation session. After yoga practice, we meet for a pre-dinner cocktail (n/a too) and bask in the beautiful lavender and mauve light of dusk. As night falls we enjoy a gourmet meal together, before drifting into deep, restful sleep.
The Food
Balanced, Nutritious, Inclusive
What else will I find in Tulum?
One of the most iconic beach communities in the world, Tulum's crystal blue waters, white powder sand and swaying palms make this charming coastal town near Cancun an ideal destination to balance out at year end.
A site of enormous archaeological significance, Tulum is home to a large number of traditional Mayan buildings that have remained intact for up to 1,000 years.

You might also visit Tulum's world-famous cenotes: a series of crystalline freshwater pools connected by an extensive maze of underground rivers. This astonishing natural phenomenon is unique to the Yucatan Peninsula.
Tulum is home to a spectacular range of animals, from monkeys and jaguars, to sea turtles and iguanas. Get close to them all at the Sian Ka'an Biosphere Reserve, which is one of the world's top eco-tourism destinations.
As well as the convenience, Tulum is a very bike-friendly town and cycling through it is a real joy.