Southern AZ Yoga Retreat
& Gem Show
February 9-13, 2023
Tucson, Arizona
BOOK YOUR RETREAT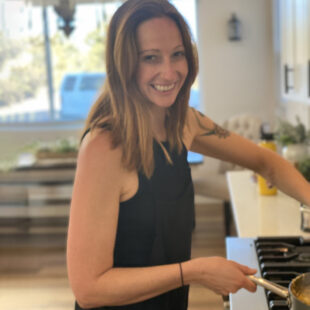 DENA HAUN, CHEF
Dena will be cooking up your plant based meals with savoir faire again this retreat! With her masters in recreation, Dena has spent the majority of her professional career organizing events and festivals, leading wilderness expeditions, and managing a full time kitchen. She is currently a ServSafe Manager and a Wilderness First Responder. 
DEBBY SIEGEL, MSA, 500 ERYT
Naturally playful with a centering demeanor, Debby inspires students through creative one-of-a-kind opportunities to inquire more about themselves with a childlike sense of wonder. Connecting becomes and automatic biproduct. Debby intends to spend her one wild and precious life oscillating glee and connecting others. Join her on mat, hike, climb or ski in her home state of Arizona!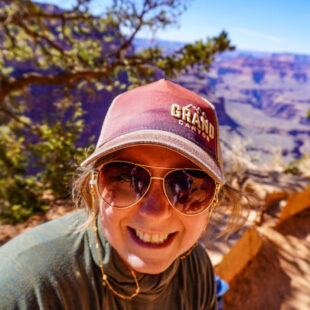 CIARA BREWER, RYT
Ciara Brewer is an adventurous soul with one of those magnetic personalities. This amazing yoga teacher, writer, and passionate creatrix who spent a good portion of 2020 overlanding in the southwest, will be teaching and supporting the yoga classes and guiding a hike. This is our 2nd retreat together as a trio. Dena, Debby & Ciara!
SOUTHERN AZ ADVENTURES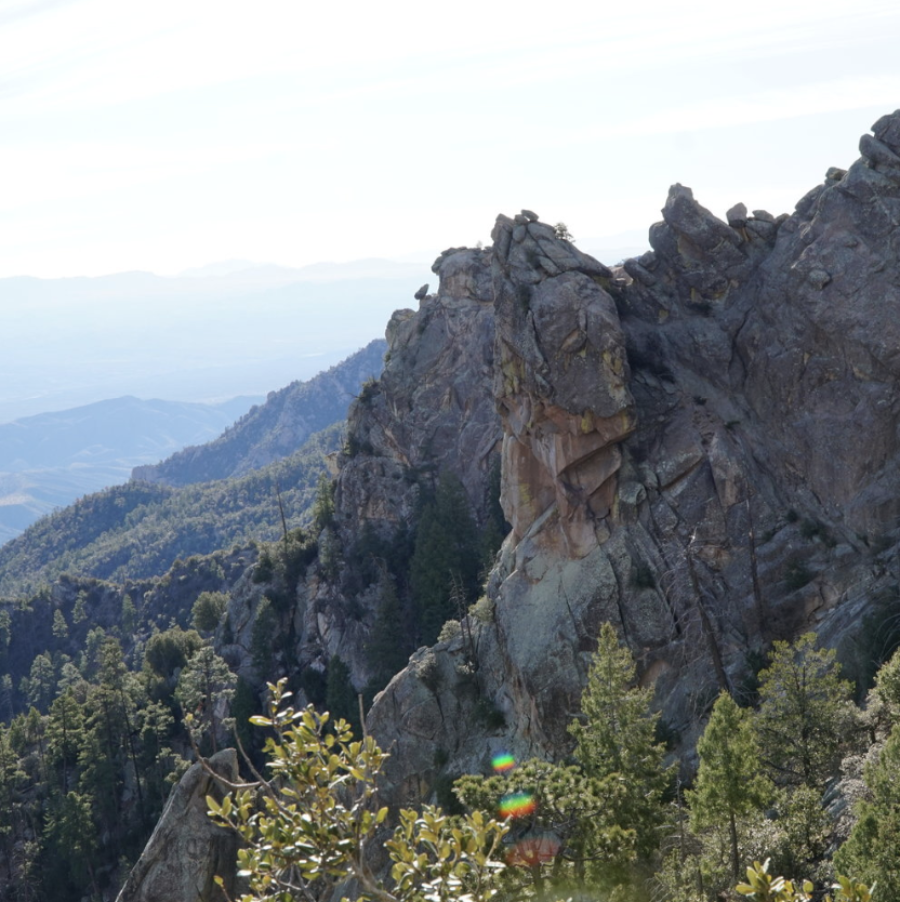 MT LEMMON / SAGUARO NAT'L PARK
We will have opportunities to play outdoors.
MT LEMMON: A 20-minute drive from our Tucson retreat home is the Sky Island – Mt Lemmon – in Coronado National Forest. Mt. Lemmon's 9,171 foot climb to its peak offers drastically different environments as the elevation changes rapidly. The Sky Island Scenic Byway is the biological equivalent of driving from the deserts of Mexico to the forests of Canada in a stretch of only 26 miles!
SAGUARO NAT'L PARK: We have a hike option in Saguaro National Park as well. Saguaro National Park with its Saguaro cacti, unique to the Sonoran Desert (some reaching as high as 50 feet and 200-years-old),  also features mountainous regions where pine and coniferous forests — making this the most bio-diverse desert in Northern America.
RESERVE YOUR RETREAT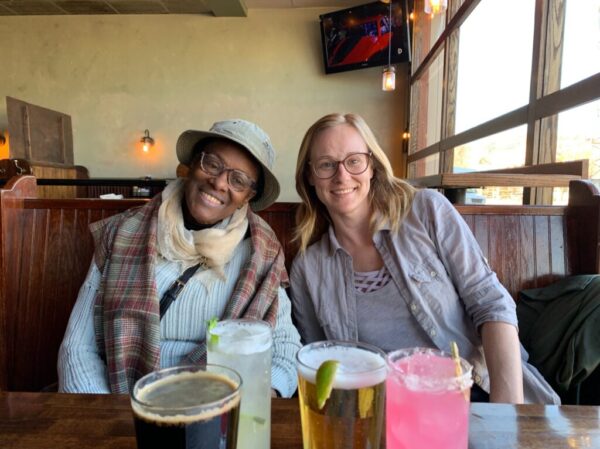 Five Meals Provided
We will dine together family style for opening night dinner, brunch after morning yoga and a final night dinner in our retreat home. You will have the opportunity to explore authentic southwestern flavors dining out as well.  The prepared meals will be plant based, nutrient dense, loaded with protein, and good for your body and soul.
SAMPLE MENU
World's Largest Gem & Mineral Show Feb 9-12
The Tucson Gem, Mineral & Fossil Showcase consists of over 4,000 exhibitors and buyers from 42 states and 17 countries at 50 locations including showcasing some of the best minerals from museums like the Smithsonian and Harvard University. We will pair our gem show stop with a tour of downtown Tucson restaurants and entertainment, using the Tucson Sun Link streetcar.
MORE ABOUT GEM & MINERAL SHOW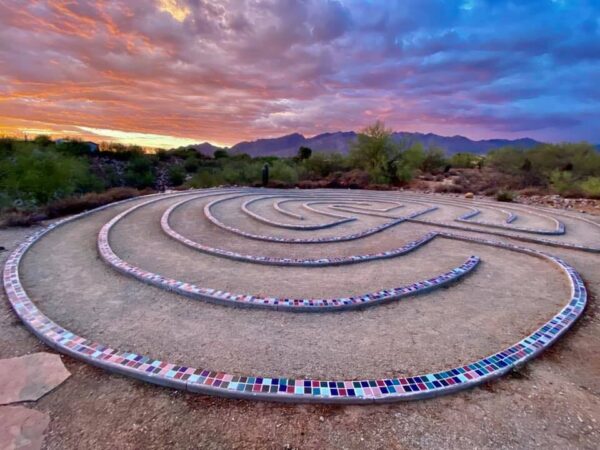 Labyrinth Meditation
Labyrinths date back 3-4000 years and are one of the oldest contemplative tools known to humankind. We will participate in a journey of the heart while walking the labyrinth. You will have the opportunity to participate in a ceremony where you might reflect in a non-dual, non-judgmental, compassionate manner on your journey. 
RETREAT SCHEDULE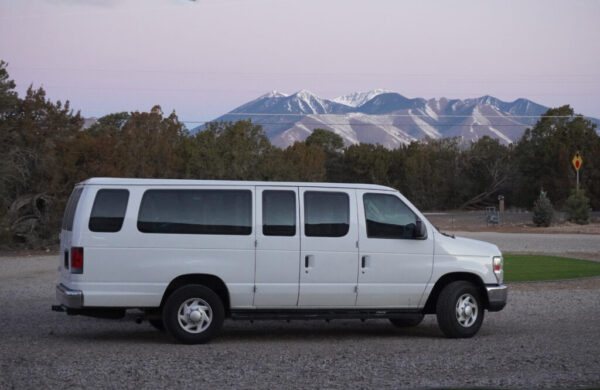 TRANSPORTATION
We have secured a passenger van and have our adventure guide arriving from the Valley of the Sun, so the transport from/to the Phoenix airport and to the excursions can be included for a nominal additional fee of $173 each! Space for 10 passengers.
RESERVE SEAT IN VAN
Your Shangri-La
Our 7 bedroom, 5 bathroom retreat home (with an additional 2 bd/2ba guest house) atop a quiet hill in a Tucson neighborhood, sleeps 15, with options for those seeking solitude in a room to themselves, sharing space or couch crashing. The yoga space will be in a heated, epoxy floor garage space. There is a separate guest house where Sarah Burkhalter, a licensed massage therapist from Miraval, a world-class holistic spa and retreat center located in Tucson, AZ, will offer massages the afternoon of Friday, February 10.
We will be heating the pool to 85º for one day/night, and have access to the hot tub all nights. Learn more about the room options below:
ACCOMMODATIONS
MASSAGE SCHEDULE / BOOKING
DAILY MOVEMENT
You will move and be moved through unique and powerful connections to nature, exhilarating adventures, invigorating and deeply relaxing yoga and the feelings of awe and wonder again and again at the sacred landscape of southern AZ. This four night retreat includes options of hiking Mount Lemmon, day trips to the world's largest Gem and Mineral Show and to a labyrinth for a sweet ceremony, twice daily yoga, and includes five plant-based meals – all for as little as $700. 
DAILY REST
Your getaway will include rest for your mind and body too. You might book a massage in our retreat's casita (extra $$), relinquish your mind in a sound bath, explore yin yoga & yoga nidra, or simply rest in a nook of the home. We will each craft our own heart chakra crystal candle for our retreat keepsake. We will breathe into the pauses our cells need to learn and grow as well.
Join the Facebook Event Page for Updates
News of artitsts joining, activity offerings, entertainment enhancements, etc are all on the Facebook Event Page.